ESCAPEISM - Juried Show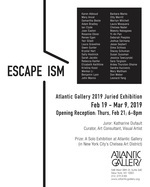 February 19 – March 9, 2019
"Escapeism" - Juried show at Atlantic Gallery.
Juror: Katharine Dufault

Opening reception: Thursday, February 21, from 6-8:00 pm.

Atlantic Gallery
548 West 28 Street, suite 540,
Chelsea, Manhattan, NY 10001.
Gallery Hours: Tuesdays-Saturdays 12-6 pm; Thursdays 12-8:00 pm.
---
LICA@ATLANTIC 2019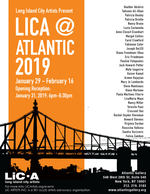 Group exhibition LICA@ATLANTIC 2019, organized by Carol Crawford, includes the works of 32 members of Long Island City Artists. The diverse showcase includes: painting, sculpture, graphics and installation. The show runs from January 29 – February 16, 2019. Opening reception: Thursday, January 31, from 6-8:30 pm An informal Meet-the-Artists event will be held on Saturday, February 9, from 2-5. The artists will introduce themselves to visitors and discuss their works and the new growing art scene in Long Island City. Atlantic Gallery 548 West 28 Street, suite 540, Chelsea, Manhattan, NY 10001 Gallery Hours: Tuesdays-Saturdays 12-6 pm; Extended hours on Thursdays 6-8:30 pm
---
OFF THE WALL - Affordable Art Fair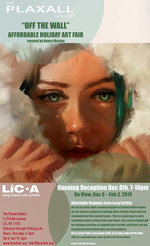 "Off the Wall" Art Fair at the Plaxall Gallery is curated by Nancy Macina and will include affordable originals from local LIC artists! All art to be sold right Off the Wall.
Saturday, December 8th, 7-10pm
On View: Dec 6 – Feb 3, 2019

Plaxal Gallery
5-25 46th Ave, Long Island City, NY 11101
---
FALL SALON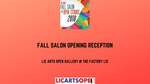 Thursday, November 29, 5-9pm! Opening of the Fall Salon at The Factory - 30-30 47th Ave, LIC, NY 11101. Visit both Exhibition A & Exhibition B at the Raw Gallery and LIC Arts Open Gallery! More than 150 artists are participating in this show. There are two of my paintings on view. The show will be up until January 4th, 2019. Gallery is open every day from 9am-9pm, so come and check it out at your covenience!
---
ARTS ON TERRY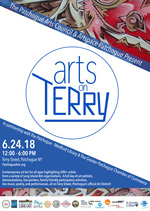 June 24, 2018
12-6pm
Patchogue, NY
---
SU CASA - Final Exhibition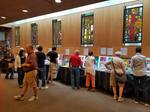 Reception: Thursday, May 31, 2018
@Queens Center for Gay Seniors
---
WSOAE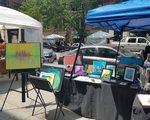 WASHINGTON SQUARE OUTDOOR ART EXHIBIT
May 27- 29, June 1-2
---
Open Studio Event + Gallery Exhibition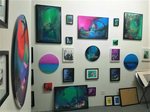 Join us May 19 & 20, 2018
@STUDIO 34
34-01 38th Ave 4th Fl, Studio 409
LIC, NY 11101
---
LIC ARTS OPEN Group Show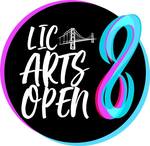 LIC Arts Open Launch Party and reception: May 16th from 7-10PM
Plaxall Gallery

---
SOLO SHOW - "FALSE AWAKENINGS"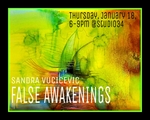 SOLO Exhibition "False Awakenings"
January 18 - February 24, 2018
at Studio 34 Gallery
34-01 38th Ave, 4th Floor, LIC, NY 11101

The show includes my recent paintings and mixed media which explore my visions of the Unknown through color and gesture.

OPENING RECEPTION: Thursday, January 18, 6-9pm
The evening will be complemented with wine, snacks, and live music (bossa nova) by D.A Sempre.

The event is free and open to public.